The Nuclear AMRC's digital environment group helps manufacturers adopt industrial digital technologies with minimal risk and disruption.
As part of the so-called fourth industrial revolution, many industries are pushing to create complete digital models of infrastructure and assemblies – digital twins which mirror the physical world and cover the entire product life cycle. Machines and sensors will talk to each other through an industrial internet of things, creating integrated cyber-physical systems which can improve productivity and performance across a host of operations.
The Nuclear AMRC's digital environment engineers work with manufacturers of all sizes to demystify the digital world. We can help you increase your readiness for digital transformation, across activities including design, analysis, training, validation, production scheduling, condition monitoring and asset tracking.
We can work with you to evolve your digital manufacturing capabilities, improve digital communication between systems, and identify and deploy the most suitable digital technologies to improve performance and reduce waste.
We also use the full range of industrial digital technologies to deliver projects across the UK manufacturing and energy sectors, and support the digital needs of projects across the Nuclear AMRC including modularisation and controls & instrumentation.
Our core work includes:
Working with SMEs to support the digital transformation of the nuclear supply chain. The cost and disruption of digital system development can present a barrier to adoption by smaller businesses, limiting the potential of their digital transformation. We can provide support and expertise to de-risk digital technologies before you deploy them, minimising disruption and costs for your business.
Data pathways from data acquisition to digital twins. We are developing a demonstrator system for digital pathways and their use in industry, ranging from sensor deployment, data collection and management to advanced visualisation cells for monitoring, controlling and optimising processes across a business. This will act as a test bed for integrating digital technologies into specific processes, and allow developers to test and assess their own technologies.
Cyber security to help manufacturers achieve Cyber Essentials standards and meet the requirements of ISO27001. We also research networked systems and security to make sure you can deploy digital technologies with confidence.
Our digital workshop at Nuclear AMRC Midlands offers access to advanced visualisation capabilities including virtual reality, and augmented/mixed/extended reality technologies which combine virtual models with the real world.
We are developing a digital manufacturing cell, combining virtual reality with motion tracking and data capture technologies, to provide a sandbox environment for process improvements, testing new manufacturing systems, and de-risking the adoption of digital technologies.
We are also developing a testbed for testing and developing advanced human-machine interfaces.
For more information about our digital capabilities and research, contact Dr Stephen Marr, Nuclear AMRC head of digital environments.
Current equipment and capabilities at Nuclear AMRC Midlands includes:
Tracked mixed reality cells
OptiTrack motion tracker.
Valve Index VR & Vive Pro head-mounted displays.
Microsoft Hololens 2s and various Android devices for augmented reality.
Industrial digital technologies testbed
Internet of things connectivity and development kits, including Arduino Gateway and LoRa-WAN.
Digital support
Digital architecture for connected systems to improve business and operations efficiency.
Data acquisition for verification and validation of live systems.
Support on research topics from data-driven systems to quantum encryption systems.
Associated facilities at the Nuclear AMRC in Rotherham include:
Virtalis ActiveWall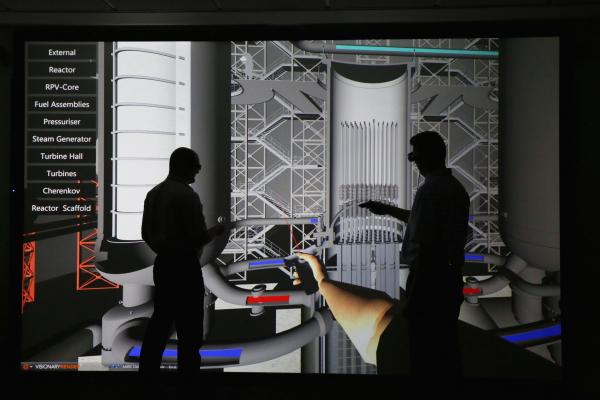 4.5 metre wide single-screen system with 3D back projection and 4K resolution.
Can be viewed by up to 25 people.
Can be linked to off-site VR facilities for collaborative working.